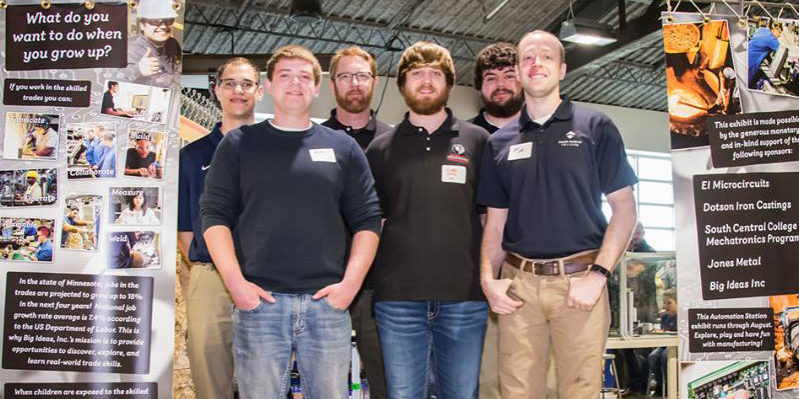 An important part of the technical, professional and career learning model is providing opportunities for students to use the knowledge they've acquired outside the classroom in the real world. Numerous opportunities at South Central College give students not only exceptional learning experiences, but in some instances, provide students the chance to give back to the community. Here is a sampling of some of these student experiences:
Mechatronics and Machine Tool Technology
SCC's Mechatronics students spent several months creating a spectacular, family fun-sized educational display for the Southern Minnesota Children's Museum. The Automation Station features seven different elements for curious kids to play with in a simulated manufacturing environment and teaches them new things about movement. Children can also assume the roles of design engineer, maintenance technician or production operator in this one-of-a-kind bright and shiny exhibit. Machine Tool Technology students also donated a "ballcourse" exhibit to the museum.
The exhibit was created in conjunction with local industry partners Dotson Iron Castings, EI Microcircuits and Big Ideas, Inc., who all had a hand in sponsoring this endeavor and making it a reality.
Auto Body & Collision
Working in conjunction with another long-time industry partner, Snell Motors, the Auto Body & Collision program recently worked on a Chevrolet HHR. The students worked to bring this damaged car back to like-new condition and handled everything from writing the estimate to installing the new parts to doing the necessary body work. 
Culinary Arts
One of the best experiences Culinary Arts students have each year is preparing, staging and serving the cuisine for the SCC North Mankato Foundation fundraising event known as Savor. Held in the lower level of the Chankaska Creek Ranch and Winery, the event is by all accounts a sensory success. Upscale, heavy hors d'oeuvres prepared by students are paired with Chankaska wines and provide an exceptional tasting experience for 100 or so guests.
Another highlight for our culinary students has been the opportunity to provide kiosk-style tasting stations at the Mankato Hilltop HyVee, one of HyVee's signature regional markets. The students worked with HyVee's onsite chef Edi Cucurullo and SCC Chefs Michael Broughten and Liz Kliewer to combine great seasonal food with original recipes. The result was a harvest of dishes that provided students an opportunity to practice and receive instant feedback from customers.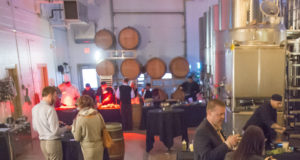 In February 2018, SCC culinary arts students volunteered their skills and talents to chefs at the Taste of the NFL in Minneapolis during Super Bowl LII.  The Taste of the NFL is a strolling wine and food event that features 35 food stations, with a chef from each NFL city serving their signature dish alongside a current or alumni NFL player. It was a thrilling once in a lifetime kind of event for these students.  
Architectural Drafting & Design
A significant cultural learning event was created when students in the Architectural Drafting & Design program were given the opportunity to create washroom designs for a local Islamic community center. The second-year design students involved learned not only from the design aspect of this project, but also from the cultural. 
Students toured the current facility and were provided with the necessary design specs for the redo including accessibility and other code requirements. They also heard from Abdi Sabrie, co-founder/board member of the Mankato Islamic Center and a student advisor at SCC. He shared information regarding the Islamic faith as well as the Muslim ritual of purification, as the new design for the center must be able to accommodate members' need to wash before they worship.  
Liberal Arts & Sciences
South Central College's Dakota Culture, History and Language class traveled to the Pine Ridge Reservation to help at Our Lady of Lourdes Elementary School. While there, they gave dental care presentations to the children using materials and dental kits provided by SCC's Dental Assisting program.
Dental Assisting
Students in South Central College's 2-year dental assisting program along with dental hygiene students from Minnesota State University, Mankato once again participated in the annual "Give Kids a Smile" dental clinic at Minnesota State University, Mankato. Students from the colleges work together often, beginning in the second semester of their programs. Also, SCC's dental assisting students take their courses at MSU, Mankato's beautiful, new Clinical Sciences building.
Accounting
South Central College accounting students volunteer with Minnesota Valley Action Council (MVAC) to prepare tax returns for low-income taxpayers through the Volunteer Income Tax Assistance (VITA) program. SCC and MVAC have partnered together for over a decade to provide the free tax preparation service. Last year, SCC accounting students prepared over 500 returns which resulted in approximately $1.2 million in refunds.
In addition to what they learn in class, students receive specific training on Minnesota returns from a representative from the Minnesota Department of Revenue. Before volunteering, each student must obtain certification from the Internal Revenue Service. 
These are just a few of the interesting and valuable experiences that our students go through here routinely at South Central. More and more, as we continue to work with existing partners and new collaborators, we know these experiences will continue to grow and evolve into greater projects providing worthwhile results for students and for our communities.