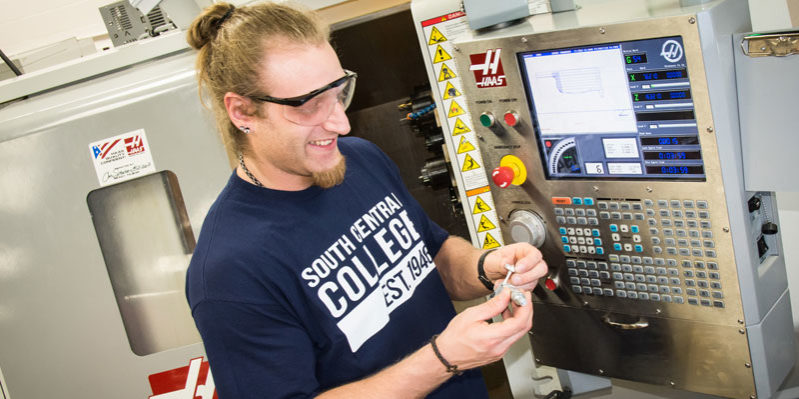 South Central College introduced the Learn Work Earn registered apprenticeship training program in advanced manufacturing during the fall of 2016. Building on the successes seen during short-term summer internships, Learn Work Earn provides students with the opportunity to work in the field while also completing a college degree or industry credential. This approach is being endorsed by government, educators and employers alike as a successful strategy for developing today's workforce.
Even more exciting is Minnesota's support for expanding these programs to fields that fall outside of the traditional apprenticeship careers; think advanced manufacturing, health care, agriculture and IT. Minnesota has made this a priority, creating grant opportunities like the MN Apprenticeship Initiative and PIPELINE Program to support employers and students as they venture into this new territory. Such programs cover set-up costs, tuition, fees and books allowing students to complete SCC's Learn Work Earn programs with minimal debt.
Since fall 2016, 33 students from SCC's North Mankato and Faribault campuses have participated in apprenticeships at nine regional manufacturing companies. Students enroll in the program of their choice — mechatronics, machine tool technology or welding — and work with their employer to set a class and work schedule that fits their needs. Then, throughout their program, they work and practice technical skills on-site with an experienced mentor while completing their classwork. This allows students to take the basic skills they learn at SCC and apply them in real-world situations.
Jones Metal, Inc. was one of SCC's first apprenticeship partners, enrolling a current employee who was taking mechatronics courses into the Learn Work Earn program.  "The flexibility of apprenticeships is something we really appreciate," explains Jones Metal HR Manager, Valerie Bentdahl. "It's great to be able to provide on-the-job training to our specifications after they learn the basics in the classroom at SCC."
The ability to supplement their internal training with SCC's apprenticeship program allowed the company to create a job in their maintenance department by upskilling Eric Berkner, one of their current employees. "The apprenticeship program gave me the experience I needed to move into my current job as a Maintenance Technician at Jones Metal," says Berkner. "It provided an opportunity for on-the-job training and allowed me to set up a pathway for advancement at the company." Berkner's successful completion of the program has piqued the interest of other Jones Metal employees, resulting in requests from others to follow a similar path. "We're looking forward to expanding the number of employees who benefit from this training," says Bentdahl.
Learn Work Earn is a model that lends itself to meeting the needs of students by providing them with the opportunity to master technical skills and move more quickly along their career pathway. As Fabrication Manager Jason DeMars from Cybex International, Inc. explains, "SCC's machining program reinforces the technical skills these students are learning on the job, strengthens their decision-making skills, and allows us to promote more quickly within." Such opportunities allow students to take charge of their career and earn the life they want.