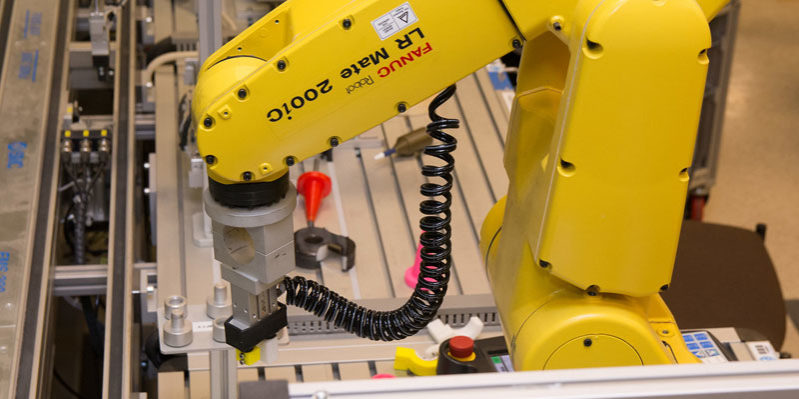 Each student's path is different – a reality that makes the career pathways created under the Minnesota Advanced Manufacturing Partnership (MnAMP) grant even more valuable. Multiple exit and entry points provide much-needed flexibility, letting students start a program based on their current skillset and needs.
One particular entry point is the Manufacturing FastTRACK program on SCC's North Mankato Campus. The Faribault Campus has a similar 'Choose Your Path' curriculum under their Pathways to Prosperity program. Delivered through a partnership of South Central College, Adult Basic Education, and local workforce centers, Manufacturing FastTRACK is a free program that allows students to brush up on basic skills — reading, math, and computer skills — while introducing them to careers in machine tool technology, mechatronics and welding.
Upon completion, students are prepared to enroll and start their college career in one of SCC's manufacturing programs. FastTRACK instructor, Ron Fleischmann, works closely with students to help guide them as they decide which pathway is best suited for them. Often he goes above and beyond by keeping in touch with students after the program is over and making sure they know that he's there to help them reach their goals.
John Charlton completed the FastTRACK program in Spring 2017 and planned to enroll in SCC immediately. Instead, he found himself in the hospital for the summer after a severe bicycle accident.  "Ron called me up while I was in the hospital and let me know I could still do this," says Charlton. Fleischmann kept Charlton connected to the college and as a result, he started the welding certificate program. "If it wasn't for the FastTRACK program, I wouldn't be here," he says. "I'm the first one to go to college in my family, so for me to make it this far, I take some pride in that."
Once students are on campus they continue to see a friendly face. Fleischmann is available for some extra help, often times sitting in on classes with students, providing one-one-one tutoring for tricky subjects like math and physics, or connecting them to other campus resources; such as the academic support center or advising. "I have credentials in the classes they are taking," explains Fleischmann. "I'm better equipped to help them understand the material that way and the instructors work with me to help the students succeed."
The support provided through the FastTRACK program, helps students become comfortable on a college campus and address the challenge of balancing their life with going to school. FastTRACK graduate David Meixell shared that he questioned whether he really wanted to go back to school, but the promise of a good-paying, high-demand job after graduation and the support through the FastTRACK program convinced him to enroll. "You definitely have to have the work ethic," says Meixell who is currently pursuing a degree in machine tool technology. Over the past two years, he has taken no less than 17 credits a semester, commutes over an hour to college daily, and works part-time as a machinist. Despite a busy schedule, he's managed to maintain a strong GPA. "I'm proud that I've been able to keep up my grades this whole time," he says. "It's been a lot, but it will be worth it."
South Central College has served numerous students through FastTRACK. Providing integrated instruction with a high level of support has been essential to preparing basic courses such as math and English. FastTRACK has shown success for those underrepresented and first generation students to be successful in higher education. Currently, South Central College has FastTRACK programs in manufacturing and healthcare
Fast Track Student Spotlights
Name: David Meixell
Degree: Machine Tool Technology (MTT) AAS Degree
SCC Graduation: Spring 2018
Industry Credentials: 2 NIMS & CPT
Why FastTRACK? "I saw a flyer in the local WorkForce Center. I had been washing hog barns and was ready for a change and the chance to start a career.
Why MTT? "It's a great field with jobs that are in high demand and where I can make a solid living."
What's the best part of the program? "Knowing that I have a career waiting for me at the end of this."
If you were a tool, what would you be? "A saw, because I'd be able to cut off only what I need."
Fast Track Student Spotlights
Name: John Charlton
Degree: Welding Certificate
SCC Graduation: Spring 2018
Why FastTRACK? "This felt like a second chance to change my life around and help me stay on track."
Why Welding? "I did a little bit of it in high school and loved it.  I'm fascinated by it…the ability to take piece of metal, something you can't usually bend, and then heat it up and make it do what you want it to. After being unemployed for seven years (due to criminal history), I feel like I have a chance at being employed again."
What's the best part of the program? "Showing up every day and actually finishing something"
If you were a tool, what would you be? "A hammer – it can be destructive, but when used correctly, it's constructive"
Fast Track Instructor Spotlight
Name: Ron Fleischmann
Title: FastTRACK Instructor/Interim Dean of Technical Education
Credentials: Four NIMS Level One Machining Credentials, Certified Production Technician, MSSC National Expert in Manufacturing Process and Production, OSHA 10
What's the biggest benefit of FastTRACK?  "For my students, it's that they get some time to review subjects before schools starts, they get some assistance with navigating college systems and then they get one-on-one help in their actual classes. This leads to a better opportunity for success."
What's the best part of working in the program?  "The best part of my job is working with someone who may not have opportunities otherwise and changing their lives. Once students finish FastTrack and finish a certificate or degree in one of these fields, they have great opportunities. What they choose to do with it, is their gig."