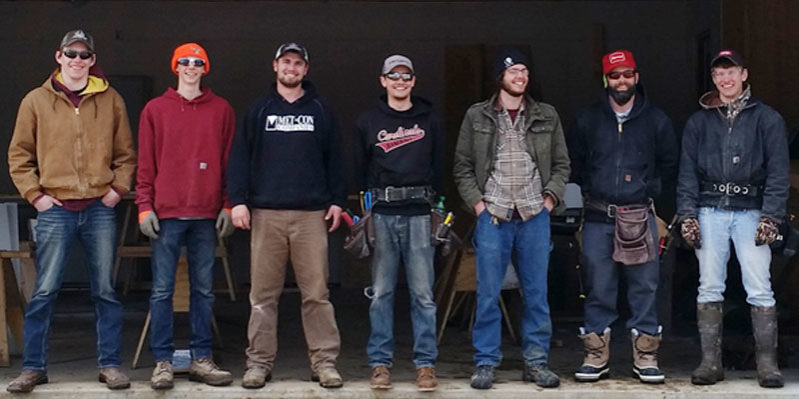 Carpentry students at South Central College had a great field project to work on recently thanks in large part to the generosity of our community partner Met-Con, a regional commercial construction company. According to carpentry instructor Mark Paddock, the carpentry program is all about learning the basics in the classroom and getting hands-on experience out in the field working on remodeling or home-addition projects. Last year, students got to build a house.
The students began building a brand new home in Faribault as a "living lab" where they applied their carpentry skills under the supervision of their instructor Mark Paddock and Met-Con construction managers. Met-Con has been a long-standing partner of SCC's Carpentry program and on this particular project, Met-Con provided the lot, general contracting services and supplies. The build started out as a "spec home," but has since been sold and occupied.
Not only did the students gain valuable experience by working on this large scale, real-world project, but they are gained unique educational perspective from being involved in all phases of the project. "This group had the opportunity to see this project from when it was a patch of grass and see it all the way through until the finished product," said Jesse Akemann of Met-Con. In addition, each of the students received a $500 scholarship from Met-Con.
Demand for carpenters is strong 
Today, rebounding after the construction slow-down that occurred nearly a decade ago, programs like SCC's Carpentry program are being inundated with requests from companies looking to hire carpenters. In fact, with the number of carpenters that are retiring, demand for well-trained, educated carpenters only continues to grow. "There is a very real shortage of general carpenters," says Paddock. "Contractors want educated employees and they're waiting in line for our students." In keeping with the large demand for a skilled workforce, wages go up. "Students can make a really good living. There are huge opportunities out there."