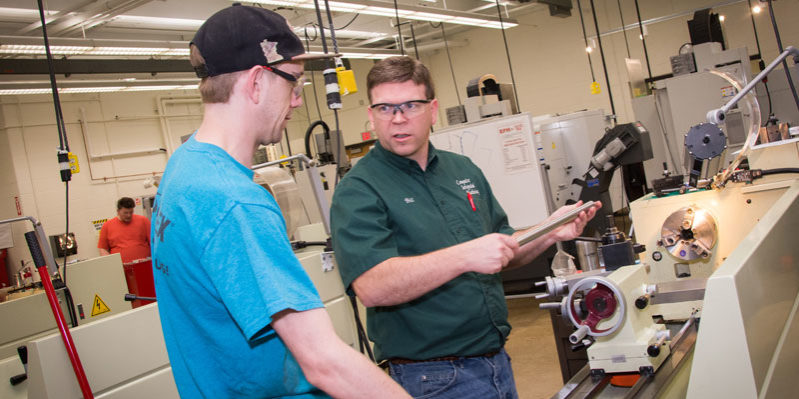 The demographic make up of students pursuing higher education for the first time or returning to college is undergoing a significant change, specifically when it comes to age and background.
Age
The rise in enrollment of students 25 and older in higher education is projected to nearly double that of younger students through 2020. In fact, 40% of college students are older than 25 according to a study by the National Center for Education Statistics (NCES).  
Background
In the case of South Central College, there is also a rise in "underrepresented" students, which includes low-income students, students of color and/or first-generation college students. The positive aspect of this trend is that higher education is becoming increasingly accessible to more individuals. In addition, a student body that is diverse in terms of age and background provides an opportunity for all students to broaden their view by interacting with others from different age groups and backgrounds.
The challenge for higher education institutions is finding ways to serve this growing number of students who do not necessarily fit the mold of the "traditional student." As part of SCC's leadership in the Minnesota Advanced Manufacturing Partnership (MnAMP), the college implemented a plan to serve these students through a variety of innovative tools, including:
Credit for Prior Learning, which makes it possible for individuals to earn college credit for their current knowledge gained in the workplace, military or elsewhere

Online learning platforms such as LiveOnline that enable individuals to learn in remote locations such as their workplace

Short-term industry credentials obtained in short steps via educational pathways
Work-based learning opportunities through the Learn Work Earn Program
As part of the plan, SCC has also begun to implement proactive advising, with an advisor providing continuous support throughout a student's college career. The advisor will serve as an expert resource on degree requirements and completion to ensure student success. Many of these students also need to work in order to support themselves or to pay for their education which makes this balancing act difficult.  This system enables the advisor to address barriers or concerns that may impede academic progress, provide referrals to community resources and assist in problem solving to ensure success.  By working closely with these students, a proactive advisor can assist with job placement, arranging schedules around work and enrolling students into work-based learning opportunities that SCC calls Learn, Work, Earn.
The SCC MnAMP Advisor has worked with over 400 students and knows the value of proactive advising. She stated, "Proactive advising recognizes obstacles and bumps in the road are inevitable. Rather than making them a barrier and halting students from persisting or achieving an academic goal, advisors can use those patterns as a way to reach out to help set up assistance. This way, students are aware of resources before they need them, making help more approachable when the needs arise or even better, avoiding an issue altogether."
Another population of students that higher education is seeing an increase in are veterans, who by definition, are nontraditional students. They are typically older but come with a wide variety of skills and training that they completed while in the military. MnAMP worked with faculty to cross-walk their courses and programs with the Veterans Education Transfer System (VETS). By mapping military experiences, this online application helps past, present and future servicemen and servicewomen determine how their military training can count for credit at Minnesota State institutions.
South Central College, through the MnAMP grant, was able to offer career laddering through stackable curricula in which students have access to a number of different pathways with multiple entry and multiple exit points into higher levels of training and into the workforce. They complemented this through partnerships with industry, Adult Basic Education, Workforce Centers, and by providing extra training to faculty, pro-active advising and state of the art equipment. The grant served over 3,050 students with a retention rate of over 80% and provided the skills necessary to meet high-demand, high-growth jobs in Minnesota.