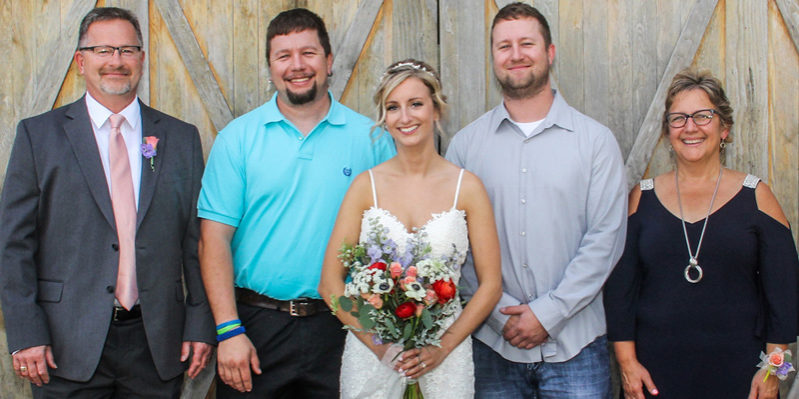 Three members of the Schoener family have something in common – they all attended South Central College at the same time. But the similarities in their stories stop there, with each pursing college degrees at different stages of their lives.
Bethany Schoener participated in South Central College's Nursing Assistant program while in high school and worked for six years as a Certified Nurses Aid (CNA). As a result of her experience as a CNA, she discovered she wanted to become a Licensed Practical Nurse (LPN). She started the Practical Nursing program at South Central College in January 2015 and graduated later that year at age 23. Recently married, Bethany has a new last name (Kuderer) and a new home (Omaha), where she works as an LPN in a family practice clinic. She still looks back fondly on her time at South Central College. "I chose South Central College because of its convenient location and the fact that I could complete the program in a year. I was happy there."
While Bethany was attending SCC, her mom Deb decided to pursue her degree in Practical Nursing as well.
Deb Schoener had thought about going into nursing after graduating from high school, but chose another area of interest, earning a Bachelor's degree in Family Life and Child Development from Minnesota State University, Mankato. For the next 27 years she worked with developmentally disabled adults, but she remained interested in nursing. "I had been waiting for the right time to pursue a degree in nursing, and when my daughter and my friend started the program at South Central College, I thought if they can do it, so can I," said Deb.  She started part-time in January 2014, graduated in December 2016 at age 56 and started her second career in nursing. Today, she works as an LPN at Ecumen Sand Prairie, an assisted living community in St. Peter, Minn.
While his mom Deb and sister Bethany were pursuing their degrees, Jordan Schoener also started at South Central College, beginning in the Fall of 2015. Deb shared, "It was nice having him there. He knew where my classes were and would often visit me, which was wonderful."
A military veteran, Jordan had been working at Dotson Iron Castings, where he found he had an aptitude for machining. Interested in learning more and advancing his career, he joined SCC's Computer Integrated Machining program. At South Central College, Jordan benefited from the college's Apprenticeship and Credit for Prior Learning (CPL) programs (see page 10 for more details on CPL). He graduated this past spring with an Associate of Applied Science degree in Computer Integrated Machining at the age of 32 and still works at Dotson now as a Pattern Maker/Machinist. For just one semester, all three Schoeners were on campus at the same time, which Jordan enjoyed. "I'd see them in the hall and say 'hi.' It's just kind of a cool story."