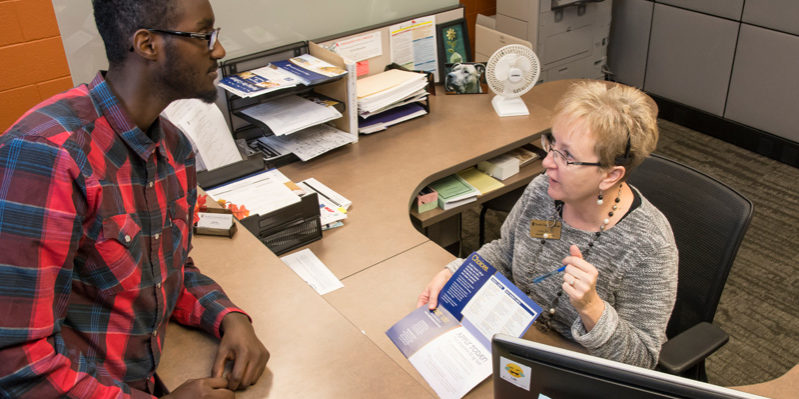 What does success mean to you?  Do you want to begin a rewarding career after graduating from South Central College?  Do your goals require a four-year degree or more?  Whatever your definition of success, South Central College will get you ready for it.  Choose from programs that prepare you for the workplace, the next phase of your education – or both.
As a community and technical college with over 100 degrees, diplomas and certificates available to you, SCC has a great deal to offer.
SCC offers a wide variety of technical career and professional programs that enable you to begin a rewarding career as soon as you graduate.  SCC works together with area business partners to help support their workforce needs and provide students with the opportunities to learn the specific skills employers want. See pages 12-13 for employment outlook information on SCC's technical work-ready programs.
On the other hand, if your career goals require a four-year education and you plan to continue on with your studies after graduating from South Central College, there are a variety of transfer options as well. Many SCC students start college with this end goal in mind.
South Central offers dynamic programs in ten career areas:
Agribusiness: Southern Minnesota is a hub of agriculture production, processing and related industries.
Transportation: The continued high-tech evolution of the automobile industry drives a consistent demand for industry-certified technicians.
Nursing: With an aging population that's growing, Minnesota has a high demand for nurses and is certain to require a larger nursing workforce on into the future.
Allied Health: Like nursing, allied health careers are predicted to experience continued growth in the upcoming years as the baby boomer generation ages.
Arts & Communications: Multimedia, graphic design and print production skills are critical to the many printing companies in the region and the job market remains good for these professions.
Advanced Manufacturing: Gone are the "old" days of manufacturing. Today's operations are clean, computerized and offer unlimited career potential.
Building & Design: Southern Minnesota's steady development ensures a positive outlook for engineering, architectural and construction careers.
Business: A strong retail, banking and industry climate sustains demand for business people in many areas.
Human Services: Expanding outreach services for individuals and growing families in the region require more employees.
Liberal Arts & Sciences: A strong liberal arts and sciences curriculum draws students to SCC who want to earn an associate degree before transferring on to a four-year college or university.
The best way to make a decision about attending South Central College is by visiting the college's Faribault or North Mankato campus! 
To schedule your visit today, go to www.southcentral.edu/visit.