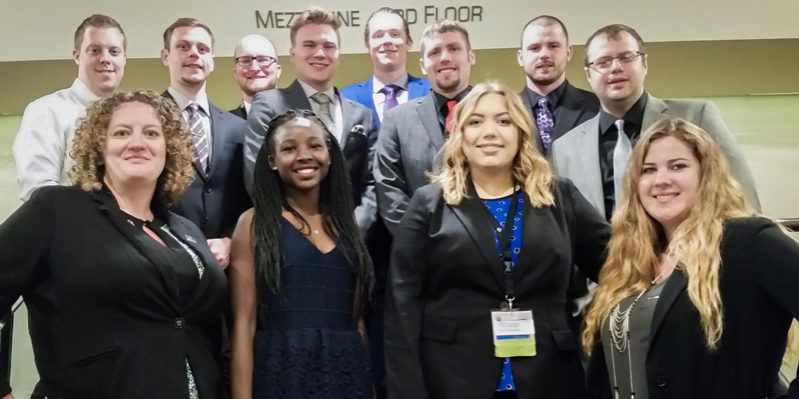 Business is still one of the most popular majors in college.  And for good reason.  A career in business can be tailored to your individual strengths and interests and offers great potential for individual and financial success.
If you want to go directly into the workforce after graduating, South Central College offers well-established programs where you can earn a certificate, diploma or Associate of Applied Science (AAS) degree (www.southcentral.edu/business).
If, on the other hand, after graduating you plan to immediately go on to earn a Bachelor of Science (BS) degree, South Central College now provides you with a direct link to a four-year degree through the Business Transfer Pathway program.
A Direct University Link
The Business Transfer Pathway program provides you a powerful new option: the opportunity to complete an Associate of Science (AS) degree with course credits that directly transfer to designated bachelor's degree programs at Minnesota State system universities.
"This Business Transfer Pathway enables students who may be more comfortable in a community college setting to take the first two years of their Bachelor of Science in business here at SCC and then transfer as a junior into a Minnesota State university to complete their last two years," said Barb Embacher, dean of career and technical education. "An added benefit is that they will also earn their Associate of Science degree from SCC before transferring."
The Best of Both Worlds
The Business Transfer Pathway AS degree from South Central College will transfer to the following programs at these Minnesota State system universities:
Minnesota State University, Mankato
BS Management (Business Management emphasis or Human Resource Management emphasis), BS Finance (General Finance emphasis, Investment Analysis emphasis, Institutional Finance emphasis, Financial Planning and Insurance emphasis, Corporate Finance emphasis), BS Marketing, BS International Business
Metropolitan State University
BS Management, BS Business Administration,
BS Entrepreneurship and Innovation,
BS Human Resource Management, BS Finance,
BS Marketing, BS Supply Chain and Operations, BS International Business
Minnesota State University, Moorhead
BS Business Administration
St. Cloud State University
BS Business Management, BS Management (Operations Management concentration, Human Resources concentration)
Southwest Minnesota State University  BS
Management (General Management concentration, Human Resource Management concentration, Supply Chain Management concentration)
Bemidji State University
BS Business Administration
Winona State University
TBD
Innovative Education
According to Dave Hammitt, instructor at South Central College, the Business Transfer Pathway is a welcome addition to the business program offerings available.  "We're committed to providing students with education options that make sense and we're pleased to now offer the Business Transfer Pathway AS as another alternative to students.  We have a number of students who earn their associate degree in business at South Central and want to go on to get a Bachelor's degree.  This will definitely help them get to where they want to go in a more efficient way."
Hammitt stated that the Business Transfer Pathway is a positive step in maintaining a student-focused mission.  "As educators, we need to address the changing needs of our students and provide them with innovative solutions." 
For more information on the Business Transfer Pathway, visit www. southcentral.edu/businesspathway.